A good conclusion makes your paper complete and more persuasive. It briefly resumes what you've already said in your paper. At the same time, conclusions present your findings from a new perspective, emphasizing the value of your research. To make it work, tell how your findings can be used in practice and why readers should care or even motivate your audience to take some action. Here's how to write a conclusion for a research paper, combining all major components.
We'll create an entirely
exclusive
&
plagiarism-free paper
for
$13.00
$11.05/page
308

certified experts on site
Key Ingredients to Include
A common pitfall is not going beyond summary and repetition of the facts that have already been discussed in your project. Summary is just the first step. Never stop after repeating what you have already said. Here are major parts of a good conclusion: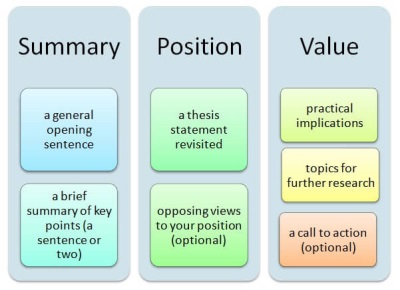 Sample conclusion for a research paper:
The transformational power of classical music can be beneficial for an individual's health, education and wellbeing. (General statement) The exposure to Mozart's music has shown a short-term improvement in pain management, academic performance and mood; early childhood exposure can be good for a child's mental development. (Brief summary) Whereas a set of research has indicated that listening to Mozart's works can improve brain activity, other scholars claim that the phenomenon of 'Mozart effect' to a certain extent can be explained with placebo effect. (A revisited thesis statement with opposing arguments) However, the findings of this study can be successfully used in education and health care institutions for improved outcomes. (Practical implications) Further research of long-term effects continuous exposure to Mozart's music can have on an individual's creativity and imagination can give more insight into opportunities of including classical music into traditional curriculum. (Further research) Your donation in classical music effects research can make these studies more effective. (A call to action)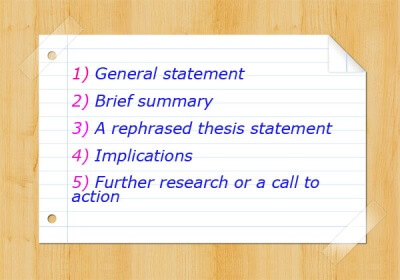 5 Sure-Fire Tactics for Research Paper Conclusions
The following proven tactics will help you write a winning conclusion for your research paper:
Receive an
exclusive paper
on any topic
without plagiarism
in
only

3 hours
Open with a general statement. Revisit your introduction and recollect how you started your project.
Teenage pregnancy is an important social issue which negatively affects the parents, their kids and society.

Combine all major points of your project into one sentence. To make sure that your summary doesn't take too much space, revisit your main arguments and try to mention all of them in just one statement.
Recent studies have shown that the implementation of social teen pregnancy prevention programs, expanded access to family planning services, and mass media campaigns promoting safe sex are effective measures for declining the teenage pregnancy rates.

Rephrase your thesis statement, adding opposing views to it. It's time to introduce conflicting views to show that you've considered the opposite views on your question.
Whereas the educational and mass media campaigns can be effective means for reducing the teenage pregnancy prevalence, there's an opinion that teenage pregnancy should not be considered as a problem, taking into account the rates of infertility in older women.

Discuss practical value of your findings.
The findings of the current study can be used for further development of educational family planning programs in schools and mass media.

Outline opportunities for further research.
Further research of the influence of being born to a teenage mother on the following life span can help society better understand the problem of teen pregnancy, if it should be called a problem.
How to Start a Conclusion for a Research Paper
The best way to start a conclusion for a research paper is a general phrase. If you have some doubts as to what a general statement should look like, here are some good examples for you:
The question of Shakespeare's authorship of the plays which are usually attributed to him gives rise to a heated dispute in a scholarly community.

In the course of time, the original concept of American dream has undergone significant changes.

Social inequality is one of the central questions discussed by modern sociologists.

The social activity plays an important role in an individual's personal development.

The mass media has an immense impact on social consciousness and particularly lifestyles of the youth.
Top 10 Dos and Don'ts
The best and worst strategies to write a conclusion paragraph for a research paper:
| Dos | Don'ts |
| --- | --- |
| Start with a general phrase to get down to business. | Start with an overused meaningless phrase: in conclusion, to sum it all up etc. |
| Briefly summarize what has been said in the previous sections. | Surprise everyone with some new facts you've just discovered. |
| Rephrase your thesis statement. | Copy and paste your thesis statement word by word from your introduction. |
| Offer topics for further research. | Stick with mere summary. |
| Discuss practical implications to add value to your research. | Criticize yourself: "I'm not an expert"; "It's just my opinion…" |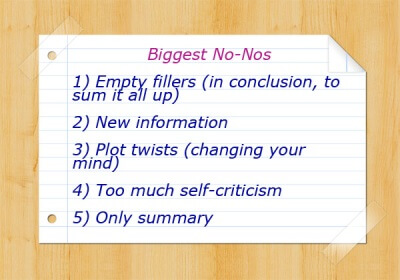 4 Ineffective Research Paper Conclusions
Master of empty fillers
So, in conclusion, I'd love to sum it all up and state that money is just one method of employees retention. Based on the facts mentioned above, it can be concluded that non-monetary rewards can be effective for improving employees' loyalty to their organization…
Plot twist
The employees and their commitment to the organization are an important asset of a company. The non-monetary strategies of employees' engagement and retention, such as investment in their professional development and acknowledgment of their achievements, can be effective motivators for the staff. On the other hand, despite all the arguments mentioned above, there's nothing like a monetary reward for motivating an individual to put in extra effort…
Self-criticism champion
The employees and their loyalty are the backbone of any company. It can be just my opinion supported by my biased investigation, but money is not the only one motivator that can reduce the turnover rates in a company. In my humble opinion, the non-monetary strategies can be effective for the employees' retention as well…
Get your 1st
exclusive paper
15% cheaper
by using our discount!
Summarizing like a pro
To sum it all up, the economical success of any company depends on engagement and retention of its employees. As it was pointed out in the first chapter of this research project, effective training and investment into employees' development can help reduce the staff turnover. Then, according to the conclusions that can be drawn form the second chapter, verbal appraise and respectful communication are important for employees' engagement…
A Sample Conclusion for a Research Paper that Works
In contrast to the ineffective conclusion strategies discussed above, here's a really good example of a conclusion for a research paper on employees' retention:
The employees and their commitment to the organization are the strength of a company which affects its revenues. In a competitive labor market, about 30% of the staff are actively looking for a new job, and thus the retention strategies need to be a critical area for the management. Clear communication, challenging assignments, professional training, feedback and acknowledgment are the key non-monetary strategies that can help reduce the employees turnover. The use of non-monetary retention strategies requires time and effort of the managers, but the resulting improved employees' engagement will prove that it's worth it. Further research of the managers' attitudes towards the increased workload as the result of the retention campaigns should be researched for creating a complete picture of the staff turnover.
In case of any questions on how to write a conclusion for a research paper, feel free to leave a comment below. Good luck!